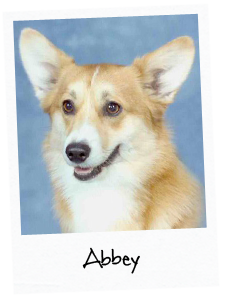 Pembroke Welsh Corgi
CH Ultraa Engel Highland Fling HIC, Multi Puppy Group winner
Little Eden's Exile FM, CGC, Bronze Medalion X Vagabond Whip
DOB Nov. 27, 2002
We were looking for a smaller breed that could be shown, still had brains, and could stand up to the Aussies.  Here she is!  Abbey is as tough and as pretty as they come!  A true corgi, she's already taken over the household!
This girl can fly!  Gorgeous movement, an excellent shoulder, rear angulation to match, and a beautiful face; we think she's going places!
Abbey is also trying her paw at agility and is really enjoying it.  People are quite surprised at how fast and how high those short legs can take her!
She's also a charmer; at a recent show she "talked' a judge into giving her his chapstick and eventually picking her up so that she could sample the chapstick he had already applied.
Abbey is a multiple Puppy Group winner!
Thank you Karen Traa (Ultraa) and Wenda Engel (Engel) for this spunky, funny, girl!
Abbey is now spayed and is focusing on her agility training."
Ch.Ultraa Country Club
"HENRI"
Red & White, OFA GOOD, Eyes Clear, vWD DNA Clear
BIS/BISS Can.&Int'l Ch. Carmarthen Dusky Ovation HC
Tricolor Natural Bobtail vWD DNA Clear Eyes Clear
Ch.Carmarthen Tri Hahn
OFA Fair
Ch.Texanda's Country Boy
Ch.Carmarthen Daphne Diawl CD
OFA Fair
Ch.Willoan's Carmarthen Fiona HC ROMC
OFA Fair (Natural Bobtail)
Ch.Warrenhouse Icicle
Willoan's Aveela
Ch.Ultraa's Cosmopolitan Charm
Red & white OFA Excellent Eyes Clear
Ch.Ultraa's Banjo Benjamin HC TT
OFA Good
Ch.Engel's Badger Boy
Engel's Candlelight Twinkle
Engel's Tiffanie Tempo
Ch.WeeFolk's Engel Shredder
Engel's Tippirary Tempo
Ch.Oakwind's Summer Breeze
"HANNAH"
Tricolor Hips Prelim'd vWD Clear by parentage
Ch.Sandfox Flying Finish UD HS MX AXJ VCX
Red & White OFA Excellent CERF vWD Clear
Ch.Nebriowa Front And Center ROMX
OFA Excellent
Ch.Magnum of Vennwoods ROMX
OFA Excellent
Ch.Nebriowa Stitch In Time
OFA Good
Ch.Sandfox Fly So Free ROM
OFA Fair
Am.Can.Ch.Nebriowa Jordach Fox Meadow ROMX
OFA Fair
Ch.Sandfox Ramblin Rose
OFA Good
Oakwind's Honor and Glory
Tricolor OFA Fair vWD Clear
Ch.Hallmark Olympian vWD Clear
OFA Fair
Ch.Aubrey Brookehaven Outlandish
OFA Fair
Hallmark Snickers
OFA Fair
Nomad Oakwind Sweet Revenge
OFA Good vWD CLear
Otreks English Hideaway
Ch.Otreks Pacific Crest