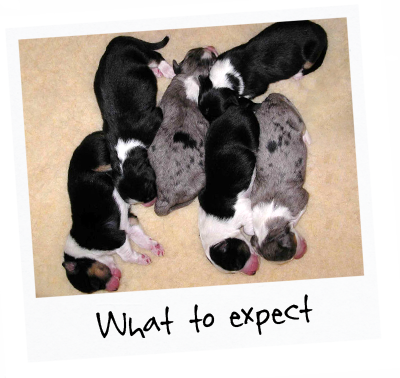 Kinring Australian Shepherd puppies are born and raised in our home. They are exposed to many different people, dogs of all ages, and lots of cats! We use the Puppy Aptitude Test to help evaluate temperament at 7 weeks of age. Puppies are evaluated for structure and movement as close to 8 weeks as possible.
We start housebreaking our puppies at 4 weeks of age. We use 2 different methods; we take puppies outside to potty when they wake up, before and after a big play session, and after eating (just like you will at home); we also litter box train our puppies. They have a puppy sized litter box in their play pen that is filled with wood pellets for pellet burning stoves (non toxic and do not cause any trouble if a puppy decides to eat them), the puppies quickly learn to use the box for pottying. The litterbox is very handy for new owners – if it's -30 outside and your puppy has just woken up at 2am they can simply use the litterbox and then go right back to bed!
Puppies come with a written guarantee, have been examined by my vet, have had their first vaccination, are deowrmed, and tattooed/microchipped. Puppies will be individually registered with the Canadian Kennel Club, the litter is registered with ASCA, and owners may register their puppy with the AKC.
Please note that Australian Shepherds come in different colors and coat patterns. We can predict what we will get in a litter, but this is NOT a breed that you can custom order a "blue merle female with one blue eye". We do NOT place puppies based on color or markings, rather we emphasize matching the correct puppy temperament, energy level, and ability to the prospective family. Remember that color and markings are simply 'paint', what is truly important is that you get a puppy that has the temperament to do what YOU want, and that you will be comfortable living with for the next 12-15 years.
As responsible breeders we want to make sure that an Aussie is the right dog for YOU. That means that we will be asking you a lot of questions, as well as requiring you to fill out our questionnaire.
We strive to produce Aussies with sound minds and sound bodies that excel in many areas. Talk to us about your next show dog, obedience dog, performance dog, or loving companion.
Our Current Litters and Available dogs
Our Upcoming and Planned Litters
FAQ's and questions you should be asking your breeder - coming soon!