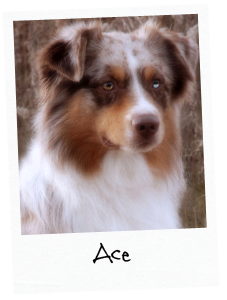 CH MOTCH Kinring's Flying Ace ASCA STDds, CDX; AAC EXST Bronze, SGDC, ADV.Gamblers, ADV. Snooker; NADAC TG-N, NAC, WV-N, TN-N
ASCA/AKC/CKC CH Harmony Hill's Notorious x CKC CH Sheep's Kin Donayne Blackbird CD, TT, HIC, CGC
DOB September 7, 2004
2006 ASCA Nationals High In Trial Winner with a PERFECT 200 Score!
Ace is owned, trained and trialed by Rob Byers. Ace is a multi High In Trial winning dog. Racking up the HIT scores in both ASCA and CKC on his way to his CD, and then continuing his high scoring ways to pick up his CDX with 3 straight High in Trials!
Ace is also the youngest Aussie that we know of to win a Best in Show. Ace earned the prestigious award at 9 months of age.
Rob and Ace are a busy team – we'll see them soon on the agility field as well as in the stock arena. Ace shows drive, athleticism, and a keen desire to work and learn in all venues. He is a natural retriever, loves to swim, and has a confident outgoing personality.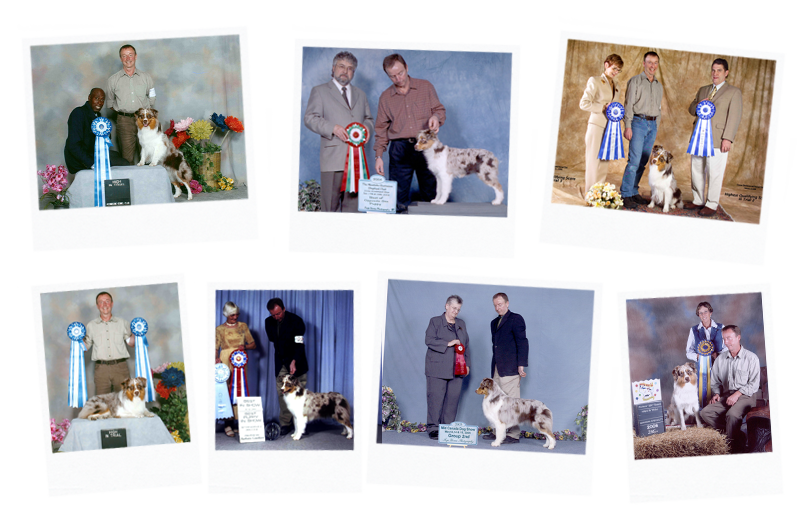 ASCA/AKC/CKC CH Harmony Hills Notorious
4/26/2002
Ch Paradox Propaganda Black C/W RF
Ch Heatherhill You Talk Too Much
Ch Brigadoons One Arrogant Dude
Ch Oprah Winfree of Heatherhill
Ch Paradox Propwash Then Again
Bayshore Propwash Balderdash DNA-CP
Ch Propwash Remarque
CKC CH Harmony Hills Dust Bunny
Blue C/W
CH Harmony Hills Hunt Country
The Highlander of Harmony Hill
Bayshores Moet
Chloes Impressive Review
Meri-Mors Blazing Bulletts
Chasebrook Reprieves Merimor
CKC CH Sheeps Kin Donayne Blackbird CD, multi HIT
Black C/W RF
CKC CH Bootez Elmden Pryz Sheeps Kin CD
Red C/W
E84963 DL75357401
4/10/1996
Ch Windy Farms Hotshot
Ch Amberwoods Arrogant Top Cat DNA-CP
Ch Windy Farms Alexis KC
Bootezs Priceless Annteak
Ch Manchado Crazy Horse CDX STDc OTDds
Anna of Sundial
Ch Morghanas Next of Kin
Black C/W
E80014 DL62830303
2/17/1996
Ch Mythical Moonwalker CD DNA-CP
Ch Blueprint Moon Dancer
Ch Brightwoods High Hopes
Ch Countrywoods Hotz To Trotz
Ch Tymbr of Happy Days STDd
Pineview Magic Maggie STDd