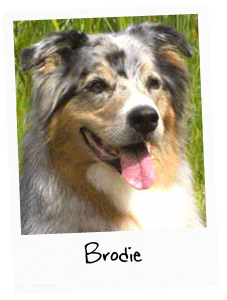 Can CH JFCoventry's Madeyalook CGC, TT, HIC, ASCA CD, CKC CDX, NJC, NGC, NAC, AD, AG-N, OAC, ONYX
Lobo's Dixiana Dance King X Can CH Powerpak's Misty Blue Magic CD, FMCH
Where do I start with a dog like Brodie?  Brodie was my first Aussie and I got lucky! He is a true ambassador of the breed. Loyal, smart, athletic, driven, willing, biddable, forgiving, serious and a clown. Together we explored the world of dog sports and activities. 
Brodie easily finished his conformation championship at 14 months old (in spite of his very novice and very unskilled handler). My first competition obedience dog, Brodie finished his CD by qualifying in 6 out of 6 trials. His CDX was completed 1 month later, qualifying in 4 out of 4 trials and earning a high aggregate award. He was always in the ribbons.
In agility Brodie was steady, consistent, and fast. When he qualified he usually won his class, beating out those speedy little Border Collies.
Flyball was Brodie's passion. Once again you couldn't ask for a steadier dog. He never bobbled, he never missed jumps, even after 2 days of racing in the heat, and he maintained his times. Brodie would run any position, with any dog, and against any team. He would run on mats, on dirt, on grass; just line him up and let him go!
At home, Brodie ruled the roost; teaching new puppies the rules of the house. He was my "demo dog" when I taught obedience classes; struted his stuff in the Pee-Wee handling ring with his buddy Adam; and was my constant shadow and protector.
I think I have been blessed to have shared my life with a dog like Brodie; he was my soul mate, my heartdog.
For if the dog be well remembered,
if sometimes he leaps through your dreams actual as in life,
eyes kindling, laughing, begging,
it matters not where the dog sleeps.
On a hill where the wind is unrebuked and the trees are roaring,
or beside a stream he knew in puppyhood,
or somewhere in the flatness of a land where most exhilarating cattle graze.
  It is one to the dog, and all one to you,
and nothing is gained and nothing is lost--if memory lives.
But there is one best place to bury a dog.
If you bury him in this spot he will come to you when you call---
come to you over the grim, dim frontiers of death,
and down the well remembered path to your side again.
And though you call a dozen living dogs to heel
they shall not growl at him nor resent him coming,
for he belongs there.
People may scoff at you, who see no lightest blade of grass bent by his footfall,
who hear no whimper, people who may never really have had a dog.
Smile at them, for you shall know something that is hidden from them.
The one best place to bury a good dog is in the heart of his master!
Lobos Dixiana Dance King DNA-CP
Red C/W AS-5340G26M
4/14/1989
CH Bluecrest Creme D'coca of Lobo
Red C/W
Bluecrest Rocky I of Windridge
CH Suns Mark of Windermere CD
CH Bluecrest Somethin' Special CD STDcs OTDd
CH Bluecrest Topic of Conversation
Behrends Butch of Comstock
Bluecrest Seme Fox Ya'
CH Dixie Dance Queen of Royalty
Blue RF
CH Royaltys King of Desert Hills
Behrends Butch of Comstock
Desert Hills Saguare Flower
Royaltys Queen of Shadbriar
CH The Chessman of Shadbriar
Hallmarks Southern Comfort
Powerpaks Misty Blue Magic
Blue C/W AS-6684G24F-T
3/2/1991
CH Tailored By Carousel
Blue C/W RF
CH Headliner of Sunny Brook CD
CH Papillon of Meshlacon
CH Summer Breeze of Sunnybrook
Chrisdavas Shanna of Carousel
CH Las Rocosa Ricky Taylor
Carousels Blaze of Glory
Firesides Cosmic Interlude
Black C/W
Firesides Space Age Hero
CH Aristocrats Repeat Performance
Higgins Coty
Harmonys Fireside Wind Chime
CH Windhills Aristocrat
Happy Days Holiday Cheer