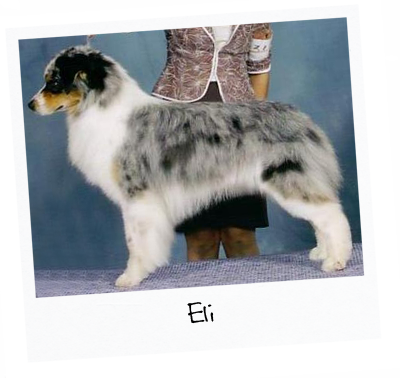 CH Kinring's Watch Him Fly PCD, CD, RN, RN-MCL, RPT, DDX, BDD, HIC
ASCA/AKC/CKC CH Harmony Hill's Notorious x CKC CH Sheep's Kin Donayne Blackbird CD, TT, HIC, CGC
DOB: September 7, 2003
Eli is owned, trained and trialed by Anne Bachewich. Eli and Anne are also a busy busy team! Eli finally took a weekend off from his performance events and finished up his championship in style... BOW, BOS all 3 days and a BOB over specials and on to a Group 3!
Eli is a very clean and balanced dog with a lovely topline and handsome head.
In the winter Eli runs on Anne's sleddog team, in the summer they are busy with agility, obedience, stock and their VERY favorite – Discdog events!
Eli is also a natural retriever, he's confident and outgoing and is exceptionally good with children.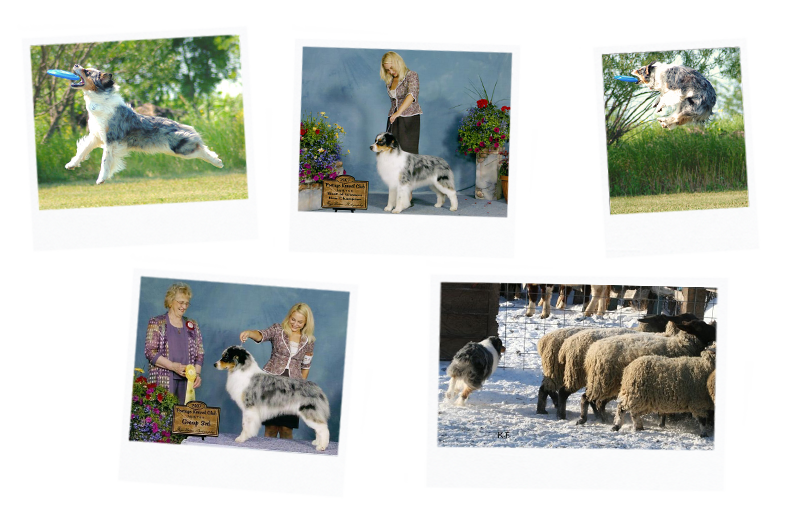 ASCA/AKC/CKC CH Harmony Hills Notorious
4/26/2002
Ch Paradox Propaganda Black C/W RF
Ch Heatherhill You Talk Too Much
Ch Brigadoons One Arrogant Dude
Ch Oprah Winfree of Heatherhill
Ch Paradox Propwash Then Again
Bayshore Propwash Balderdash DNA-CP
Ch Propwash Remarque
CKC CH Harmony Hills Dust Bunny
Blue C/W
CH Harmony Hills Hunt Country
The Highlander of Harmony Hill
Bayshores Moet
Chloes Impressive Review
Meri-Mors Blazing Bulletts
Chasebrook Reprieves Merimor
CKC CH Sheeps Kin Donayne Blackbird CD, multi HIT
Black C/W RF
CKC CH Bootez Elmden Pryz Sheeps Kin CD
Red C/W
E84963 DL75357401
4/10/1996
Ch Windy Farms Hotshot
Ch Amberwoods Arrogant Top Cat DNA-CP
Ch Windy Farms Alexis KC
Bootezs Priceless Annteak
Ch Manchado Crazy Horse CDX STDc OTDds
Anna of Sundial
Ch Morghanas Next of Kin
Black C/W
E80014 DL62830303
2/17/1996
Ch Mythical Moonwalker CD DNA-CP
Ch Blueprint Moon Dancer
Ch Brightwoods High Hopes
Ch Countrywoods Hotz To Trotz
Ch Tymbr of Happy Days STDd
Pineview Magic Maggie STDd