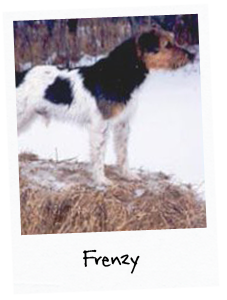 Jack Russell Terrier
Fox Hats No Fear FMCH TN-N
Little Eden's Exile FM, CGC, Bronze Medalion X Vagabond Whip
DOB Jan. 3, 2001
Be careful what you name them!!!!  The "Frenzinator" is everything I could have asked for in a Jack Russell and more (sometimes a lot more!).
I went to look at this litter wanting a smooth female.  There was one, and she was very nice, but this one little male kept climbing into my lap, bringing the ball, giving kisses.  I told my friend and Flyball teammate that the little male was the dog for her husband.  On the drive home we were discussing the smooth female and if she was the right one for me.  I couldn't get that little male out of my mind.  When I got home I phoned the breeder and asked if he was taken.  As fate would have it, the person ahead of me chose the other male, and I got Frenzy.  We haven't looked back!
Flyball is his life!  Frenzy believes that it is a competition between him and the box.  I'm his ride, and everyone else is in the way!  Totally focused, always game for one more race.  This little guy has allowed our club to set new fastest times for our "A" team.  The only challenge has been to convince Frenzy that he doesn't get to run every time.  He would be quite happy to run to the box, run back, drop his ball, and be off and running once again.  Frenzy gets 9" jumps and runs 4.6-4.7 including the pass.
Frenzy also shows real potential to be a fast competitor in the agility field.  His biggest obstacle is his handler.  We're working on that……
As a puppy he was shown at JRTCA trials.  He did very well in conformation and was Reserve male Puppy Champion.  He was also the Puppy Go-To-Ground Champion.
At home, he is a different dog.  He loves to cuddle, sleep under the blankets, or curl up on the couch.  He tries to keep the aquarium fish in line, has mostly learned to control himself around the birds, and gently harasses the cats.
Thanks to Lara Forchuk for breeding this little guy!
Frenzy is now living with my friend Daphne Tryhuk and continuing to rack up the flyball points and agility titles
Little Eden Exile
Owner:  Hughes & Barnett
CERF:  Yes
BAER:  Yes
Colour: B&W (Rough 13½")
Bowery Buck 13" B&W Smooth
Cheryl Edwards
Beano 12 ½ "B&W Broken
B&J Sutcliffe
Beacon Sam 13" B&W Smooth
M. Ramage
Queslett Blaze 12 ¾ T&W Broken
Windsong Tracey 11 ¾ " T&W Smooth
S&D Crawford
Meynell Turban 12 ¾ T&W Broken
Greg Mousely G.B.
Ravenswood Punch 12" W Smooth
B&J Sutcliffe
Dick T&W
Round the Bend Quest Tri
Round the Bend Ticker Tri
Round The Bend Tic Toc Tri
Ironsmith Ansel T&W
Ironsmith Luna Tri
Ironsmith Whisper T&W
Camelot Derby Tri Broken
Vagaond Whip FDX, JRTCA NHC groundhog, Working Trial Certificate, FDCH, Hunt Certificate on Groundhog
Owner:  Lara Forchuk
CERF:  Yes
BAER:  Yes
Colour: Tri (Broken 12")
Brandywine Aftershock of Vagabond 14 ¼" T&W Smooth
Wayne and Marla Robinson
Fox Run Shocker 13 ¼ " T&W Broken
Sandra Ferber
Hassell of Fox Run T&W Smooth
Ken Gould
Fox Run Kirby 13 ½ "Tri Broken
Sandra Ferber
Fox Run Rosie of Brandywine  12 ¾ " Tri Broken
Sandra Ferber
Foxmere Demi 11 ¾ "Tri Rough
Cowasjee/Ferber
Tag of Windermere 3 ½"T&W Rough
Little Eden Flurry of Vagabond 12" Tri, Rough
Riverview Flare 13" Tri Broken
J. Kleinman
Raymond Spoor
Riverview Little Stitches 10" Tri Broken
Foxport Laser 11 ½ " Tri Broken
Dander and Woodcock
Camelot Derby Tri Broken
Blencathra Morgan 13 ¼" B&W Smooth
Paul Ross