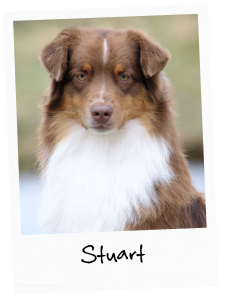 ASCA/CKC/AKC CH Kinring's Napoleon
ASCA/AKC CH Crofton Hide and Seek x ASCA/CKC CH Kinring's Let Her Fly
DOB: August 8, 2008
Flash! Stuart takes winners dog at the 2010 pre Nationals to finish his ASCA championship!
Fate is a funny thing......Stuart wasn't supposed to stay here. As a puppy he had gorgeous conformation, totally correct movement, and rocked the temperament test. But he was small. He was so small that we called him Stuart Little. Lots of people wanted him, but no home quite measured up so Stuart stayed.
At around four months of age I noticed that he really wasn't Stuart "Little" anymore. By five months I was realizing that I really had a special dog. And I guess the rest is history.
Stuart has to have one of the best heads I have ever seen on an Aussie, incredible angles, and lovely movement. His temperament is just…..the best! Easy to live with, fun to play with, affectionate, a fast learner, and good with everyone. I can't wait to see what the future holds for this special boy.
Stuart has also had a busy year. Starting off with taking Winners dog at a nationals preshow to finish his ASCA championship, and then quickly picking up his majors and finishing his AKC championship with multiple Best of Breed and Best Opposite Sex wins over some lovely specials!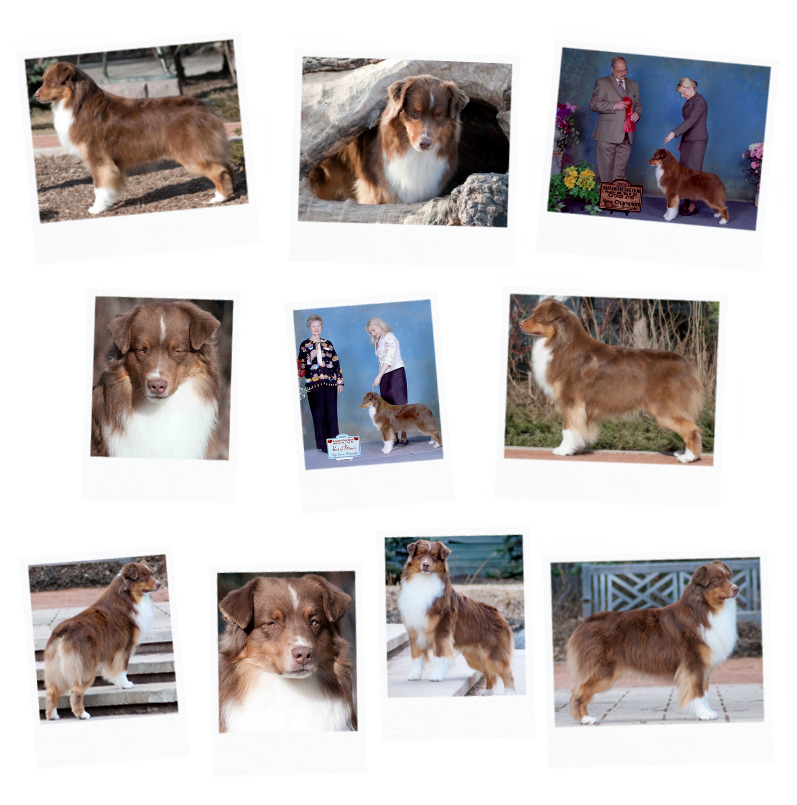 ASCA/AKC CH Crofton Hide and Seek DNA-VP
Ch Kaleidoscope Stone Ravenwynd CD DNA-CP
Ch Briarbrooks Advocator
Ch Briarbrooks Advocator
Ravenwynd Daisy Belle
Ch Cameo Diamond Talisman
Ch Briarbrooks Advocator
Kaleidoscope Diamond Tiara
Ch Crofton Remember Wren
Ch Propwash Proof Positive
Ellenglaze Propwash Samuel
Ch Propwash Positive Image
Propwash Crofton On A Lark
Ch Propwash St. Elmos Fire
Ch Propwash Bayshore Pretty Pilot CD
ASCA/CKC CH Kinring's Let Her Fly STDs DNA-CP
ASCA/AKC/CKC CH Harmony Hills Notorious
Ch Paradox Propaganda
Ch Heatherhill You Talk Too Much
Ch Paradox Propwash Then Again
CKC CH Harmony Hills Dust Bunny
CH Harmony Hills Hunt Country
Chloes Impressive Review
CKC CH Sheeps Kin Donayne Blackbird CD, multi HIT
CKC CH Bootez Elmden Pryz Sheeps Kin CD
Ch Windy Farms Hotshot
Bootezs Priceless Annteak
Ch Morghanas Next of Kin
Ch Mythical Moonwalker CD DNA-CP
Ch Countrywoods Hotz To Trot