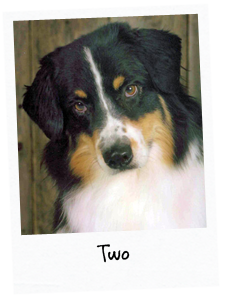 ASCA A-CH Kinring's If Tomorrow Never Comes HIC CGN CD
Can CH Sheep's Kin Just For Kicks  X  Can CH Sheep's Kin Donayne Blackbird CGC, TT, HIC, CD
August 14, 2000 - July 9, 2008
The little puppy who could. A survivor. Two was a singleton, born from an eventful pregnancy.
Two is David's dog. They are never separated; whether Two is helping with a project in the garage, or following in 'heel' position when David mows the lawn, or sleeping beside his "Dad", where you find one you'll find the other!
Two finished his show career with quite the bang! He was singled out in ASCA's altered program and we knew there were going to be majors in altered at the Manitoba Fall Classic (possibly the first altered majors in Canada?). Two had a spectacular weekend, going BOB Veteran, and then BOB altered under breeder judge Marteen Walter; then BOS Veteran, and BOS altered under Sue Ellyn Rempel; and then on to finish his championship with another BOB veteran and BOB altered win under breeder judge Ken Silveira!
Not only did he finish his championship, but he was the big winner for the weekend and walked away with the High Point Conformation Dog award! What a thrill!
Can Ch Sheeps Kin Just for Kicks
Black C/W RF  
Ch Aladdins Topthis At Redforrest STDs
Red Merle C/W
Aladdins Uno Numero Caliente  
Ch Somercrest 1 Hot Number at Cu-D
Indian Runs Rainbow Mist
Rosewoods Field of Dreams  
Ch Rosewoods Jessee James
Dorrocks Fine Wine Chablis
Ch Morghanas Next of Kin
Black C/W  
Ch Mythical Moonwalker CD DNA-CP  
Ch Blueprint Moon Dancer
Ch Brightwoods High Hopes
Ch Countrywoods Hotz To Trotz
Ch Tymbr of Happy Days STDd
Pineview Magic Maggie STDd
Sheeps Kin Donayne Blackbird
Black C/W RF  
Bootez Elmden Pryz Sheeps Kin
Red C/W  
Ch Windy Farms Hotshot  
Ch Amberwoods Arrogant Top Cat DNA-CP
Ch Windy Farms Alexis KC
Bootezs Priceless Annteak
Ch Manchado Crazy Horse CDX STDc OTDds
Anna of Sundial
Ch Morghanas Next of Kin
Black C/W  
Ch Mythical Moonwalker CD DNA-CP
Ch Blueprint Moon Dancer
Ch Brightwoods High Hopes
Ch Countrywoods Hotz To Trotz
Ch Tymbr of Happy Days STDd
Pineview Magic Maggie STDd