Cain x Morgan presented us with 6 gorgeous puppies on November 15th, 2012. This is a repeat breeding that has produced multiple champions, both in Canada and in many other countries all over the world. Cain x Morgan puppies are sweet, affectionate, and very bonded to their families. They love, love, love to cuddle!
We have:
1 red tri female
1 black tri female
4 stunning black tri boys
Please fill out a puppy application and reserve your puppy soon!
Poppy
Poppy is a fiesty red tri female. She's always in the middle of every game! And definitely the boss of her brothers!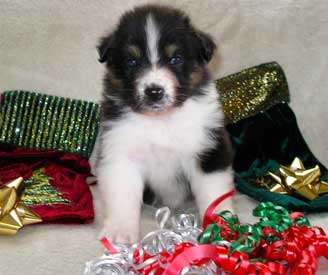 Dice
Dice is a black tri male puppy. He has my favourite personality! Brave and outgoing; and very people focused!
"4"
"4" is a black tri female. She is the sweet snuggler of the litter. Beautiful girl!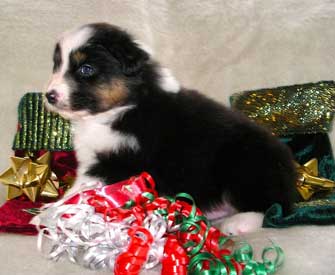 Hawaii
Hawaii is a black tri male puppy with a fun loving personality.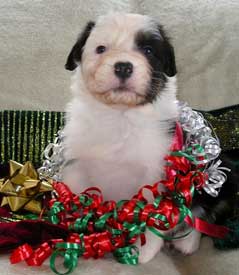 Split
Split is a black tri male. He is a big boy and loves to play with toys, especially if someone will play tug with him!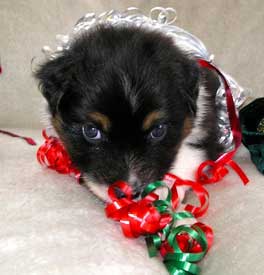 Edge
Edge is a black tri male. He reminds me so much of his father, both in looks and personality. He tries to be the serious one like Cain, but then he breaks out in the puppy goofies (also like Cain!).

ASCA/CKC CH Kinring's All That Attitude
Ch Stormridges Hes All That
Harmony Hills Hunt Country
The Highlander of Harmony Hill
Bayshores Moet
Chloes Impressive Review
Meri-Mors Blazing Bulletts
Chasebrook Reprieves Merimor
Ch Timarus Shes All That
Ch Blue Isle Dancin on Fayblehill DNA-CP
Ch Sure to Be Famous of Tres Rios CD DNA-CP
Ch Friends Blue Country
Ch Dancin Eyes Bootsrmadeforwalkn
Ch Kaweahs K.C. Darsey CD STDcds DNA-CP
Dancin Eyes Honkytonk Harlot
CH Kinring's It's Raining Men

Ch Harmony Hills Pay Per View
Black C/W AS-18596E25M-PI F=15.25% M E118106 DL88834901
6/25/2001
Ch Paradox Propaganda
Black C/W RF AS-12266G24M-T F=16.49%
E83123 DL64755204
7/26/1996
Ch Heatherhill You Talk Too Much
Blue C/W AS-9008G25M F=15.05%
E64368 DL50069502
8/14/1993
Ch Paradox Propwash Then Again
Black C/W AS-11031E29F-T F=24.11%
E74355 DL57235805
2/9/1995
Harmonys Hill Breezin Bye
Blue C/W RF AS-15677G29F-PI F=17.09%
E101498 DL76929601
10/31/1998
Ch Harmony Hills Distant Thunder
Black C/W AS-11945G24M-T F=8.81%
E81636 DL64103902
5/9/1996
Harmony Hill Brikette of Mack
Red Merle C/W AS-11943G24F-T F=11.75%
DL63559202
5/6/1996
Ch Timarus Shes All That
Blue C/W AS-16853G27F-PI
E111582
12/22/1999
Ch Blue Isle Dancin on Fayblehill DNA-CP
Blue C/W RF AS-14671E24M-T
E96383 DL74457405
5/29/1998
Ch Sure to Be Famous of Tres Rios CD DNA-CP
E46726 DL43905801
Ch Friends Blue Country
E70979 DL54516403
Ch Dancin Eyes Bootsrmadeforwalkn
Blue C/W AS-12909G26F-T
E86922 DL67091801
11/22/1996
Ch Kaweahs K.C. Darsey CD STDcds DNA-CP
E26187 DL42964401
Dancin Eyes Honkytonk Harlot
DL57801308